It's that time of the year (I know, the year is young): The Super Bowl. When every football fan abandons all other responsibilities for at least four hours. To everyone else: you can get in on the fun, and not even care about what happens in the game! How? With the prop betting. The most random bits of awesomeness all congealed into one juicy extravaganza. Everything from wardrobe malfunctions to coin toss pontification is covered, and anyone can look like a genius...and make some money. Last year, I went 7-for-10 on my prop bets so stay tuned.
If you would like the most eloquent and stat-riddled prediction, I strongly suggest
Nate Silver's article
. Here is an infographic preview of his prediction:
This article, however, is not about that. This is for the masses that won't be caring about how guys in tight pants slapping each other on the butt (and in some cases pulling footballs out of each other butts). This is for the +1s at your party. Speaking of Super Bowl parties, I strongly suggest posting these at Super Bowl parties. It's tons of fun and can see a lot o fmoney change hands over the funniest things.
My buddy Adam
, who not only has had the most kickass beard, has also bet on "over/under Peter Townsend windmills: 3.5" at one super bowl. That is probably the easiest bet in the world for anyone who has watched a Who concert. He can eclipse that in one guitar solo...easy. Fun, right? Especially for those who clicked that link to see that glorious Erik the Red beard. You can check out his travel blog with his wife
here
and live vicariously through their amazing pictures. Now, to the bets.
Alicia Keys-related Bets:
If you have the pleasure of being with me during the Super Bowl, there is a separate bet of how many times I profess how hot and awesome the R&B singer is (over/under: 2.5), but here are the more legitimate bets.
Alicia Keys....yes, please!
How long will Alicia Keys take to sing the national anthem? Over/Under: 2 min, 10 sec

Under: Although she sings at a slower pace than most to showcase her amazing (one mention) pipes, the national anthem is a different story. It's a high pressure moment -- especially after Christina Aguilera's fiasco only a few years ago. That is why she will take the "less is more" strategy and keep the embellishments to a minimum and just belt out our anthem and call it an evening. Prediction: 1 min, 55 sec

Will Alicia Keys be booed during her rendition of the National Anthem? Odds: 5:1

No: Unless someone is going to invent the "boos of joy" in the next eight hours, there will be no booing. Ms. Keys is simply too hot and awesome (two). And, there's no "oooo" in her name like Green Bay fullback John Kuuuuhhhhn. Not much profit here, but easy money is still money nonetheless.

Will Alicia Keys add or omit a word to the National Anthem? Odds: Yes (3:2) - No (1/2)

No: Once again, too awesome (three). Not as confident in this one because she is such a professional that small mistakes can, once in a while, get the better of her. And, if you haven't been following her career recently, she's pretty damn near perfect. There should be a separate bet asking if anyone notices if she makes a mistake. But when I'm conflicted like this, I always take the side of talent, and Ms. Keys is pretty damn talented (three-and-a-half?)...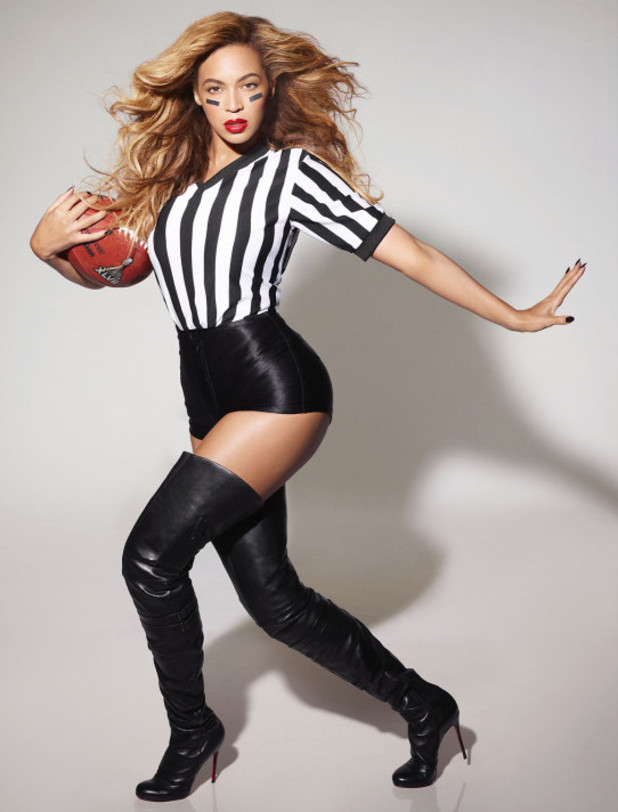 Beyonce will be "singing" during halftime...joy.
Will Beyonce be joined by Jay-Z during the halftime show? Odds: Yes (11:10), No (2:3)

Yes: First underdog prop bet pick of the day. This move not only makes sense to perform some of her songs, but it is also a primetime chance for the most celebrated less than 1% owner in sports to publicize his team: the Brooklyn Nets.

Will Beyonce's hair be straight or curly/crimped? Odds: Straight (1:2), Curly (3:2)

Curly: Beyonce went straight at the inauguration and, unless she wants to get another perm (or a trip to Dry Bar or whatever women do now to straighten their hair) to make it perfectly straight again, she'll go for the curly/crimped look. Anything to distract the audience from her lack of singing.

What will Beyonce's outfit's predominant color be? Odds: Black (9:4), Gold/Yellow (5:2), Silver/Grey (4:1), White (5:1), Red (13:2), Pink (15:2), Orange (12:1), Blue (15:1), Green (15:1)

Black: I polled ten women, and seven of them said black, two said white, and one said, "who gives a shit?"...That was a very "red" answer to me. Anyway, Black serves two purposes for Beyonce: 1) It's thinning and 2) the Nets predominant color is Black, and I anticipate her having some sort of Nets paraphernalia.